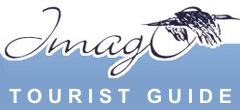 Imago, an agency specialized in guided tours in the Lake Como region, was established in 1992.

After assisting you in planning your one- or multiday tour, our experienced certified tour guides will lead you to the discovery of our wonderful lake.

From our closely knit team you can expect experience, courtesy and top professional skills. Besides, in the course of our twenty year long career, we have established excellent relationships with the best tourist structures on Lake Como (hotels, restaurants, villas, public and private boat services)
Contact us, we'll be your partner on Lake Como !!!