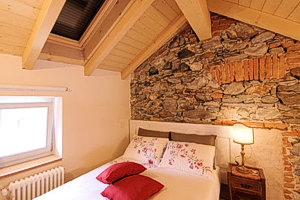 Bed and Breakfast Al Castello is located in the heart of the historic centre of Gravedona ed Uniti, where you can still see the remains of the old castle walls and the old meeting square, which is now the marvellous viewpoint known as the Belvedere or Pra' Castello. The whole area is full of ancient lanes and stairways leading either to the main squares or to the main road, the "Regina".

The oldest houses in Gravedona are found right here , around a little central square called Piazza Motta. After more than 30 years working in the real estate sector, I and my family decided to buy a house located half way up the main flight of steps to the 'Castello' area and bring it back to life as a Bed and Breakfast.

B&B Al Castello has three double bedrooms each with its own bathroom. The bedrooms are named after my beloved grandma Rosetta, and my aunts Palma and Pinetta..all Gravedonesi to the core!! The bedrooms will cleaned every three days, while the bathrooms will be cleaned and tidied every day.